What are some good evening snacks? It is a wrapper filling technique usually made in evening. This is one of the snacks recipes mostly consumed in spring time.
Take 1 lb Chicken Breast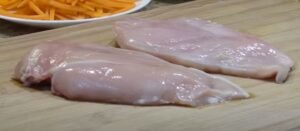 Sprinkle little salt and black pepper
Put chicken breast on heated pan having water
Take out chicken from pan and shred well
On the same pan add 1 Small Onion + 1 Tbsp minced garlic + 1/2 Cabbage + 2 Medium size Carrots + Green Onion
Transfer the filling mixture to a plate
Place fillings on roll sheets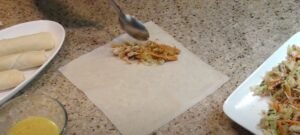 Roll on egg washed sheets
Fry on pan (until it turns brown)
Your chicken spring roll is prepared!