Is chicken tikka made from breast? Explore one of the best chicken recipes list with tikka. It is made with small pieces of boneless chicken. The word tikka is a persian word meaning pieces or bits.
Chili powder 1tsp
Kashmiri chili powder
1tbs coriander powder
1tbs cumin seed powder
1tbs garlic paste
1tbs ginger paste
1tbs whole spices(garam masala) powder
1/2tsp vinegar
1tbs yogurt 2tbs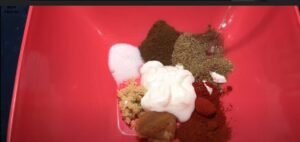 Mix well with a pinch of yellow food color
Add boneless chicken pieces to the mixture
[Mix it well]
Use chicken skewers to hold the chicken together
Cook on a pan
[Brush with oil]
Your favorite chicken tikka is ready for evening vibe!