The Boo Buckets are returning for the Halloween season from Mcdonald's. This time, they'll have four new designs plus the color purple for the first time ever.
Highlights:
The patterns are: Skeleton orange, Monster green, White for mummies, and Purple for vampires
For a limited time, on October 17th, purchase a Happy Meal and receive a bucket at participating McDonald's restaurants.
Did these make you lose your lid?
Halloween is a time for fun, excitement, and of course, delicious treats. And when it comes to spooky delights, McDonald's never fails to deliver. One of their most beloved Halloween traditions is the return of their iconic Boo Buckets.
These colorful pails filled with candy have become a family favorite over the years, and this Halloween season, they are making a comeback with a twist. In this article, we will dive into the history of McDonald's Boo Buckets, their popularity, and the exciting new designs for this year.
The Tradition of Boo Buckets
McDonald's Boo Buckets have a long-standing tradition that dates back several years. These Halloween-themed pails were initially introduced as part of their Happy Meals, delighting kids and adults alike. The Boo Buckets quickly became a hit, with their vibrant colors and playful designs. Last year, McDonald's announced the return of this nostalgic collectible after a multiyear hiatus, much to the delight of fans worldwide.
A Spooktacular Comeback
This year, McDonald's is bringing back the Boo Buckets with a fresh new look. Starting on October 17th, 2023 these iconic pails will be available across the United States. There will be four character designs in four different colors, ensuring there's something for everyone.
The classic orange bucket will feature Skeleton, the green bucket will showcase Monster, the white bucket will star Mummy, and the purple bucket will spotlight Vempire. With such a diverse range of designs, McDonald's is sure to capture the Halloween spirit in style.
Limited Availability
McDonald's Boo Buckets are a highly sought-after item, and this year is no exception. The fast-food giant has announced that these limited-edition pails will be available only "while supplies last." So, if you want to get your hands on one of these spooktacular treats, make sure to visit your nearest McDonald's restaurant or order through the McDonald's app before they vanish like ghosts in the night.
How to Get Your Boo Bucket
To get your very own Boo Bucket, all you have to do is order a Happy Meal in person or through the McDonald's app. Instead of the traditional Happy Meal toy, you will receive one of the four Halloween-themed buckets. This unique twist adds an extra element of surprise and excitement to the dining experience, making it a must-try for both kids and kids at heart.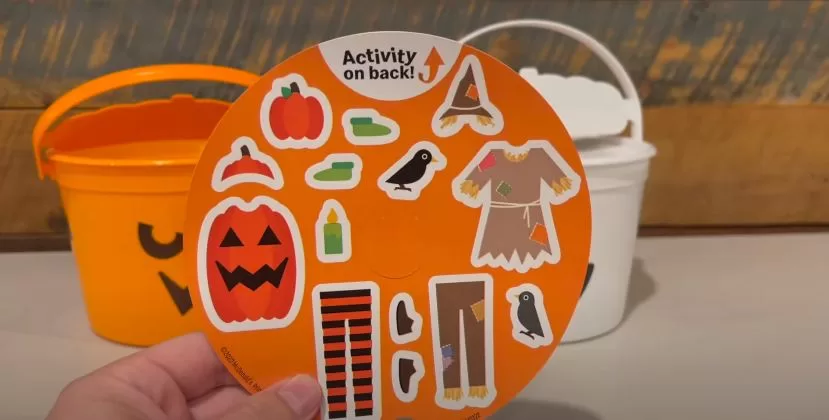 Burger King's Halloween Offering
McDonald's is not the only fast-food chain getting into the Halloween spirit. This month, Burger King is also introducing its own Halloween-themed buckets in a few cities. Their "Trick-or-Heat" buckets, inspired by the chain's ghost pepper menu, will glow in the dark and be available for a limited time. These buckets will be sold for $1 with any purchase, adding a fiery twist to the Halloween festivities.
Embracing the Halloween Spirit
McDonald's Boo Buckets and Burger King's Trick-or-Heat buckets are a testament to the power of Halloween-themed promotions in the fast-food industry. These limited-edition offerings not only provide a unique experience for customers but also generate excitement and nostalgia. With their playful designs and tasty treats, these Halloween buckets are sure to become a hit among families and Halloween enthusiasts alike.
The Popularity of Halloween Collectibles
Collecting Halloween-themed items has become a popular trend in recent years. From spooky decorations to limited-edition merchandise, people are finding joy in curating their own Halloween collections.
McDonald's Boo Buckets perfectly tap into this trend, offering a fun and collectible item that captures the essence of the season. These pails make for great Halloween decorations, candy holders, or even unique gift options.
Get Miniature Halloween Bucket (3d printed McBucket) from Etsy.
Creating Lasting Memories
For many, McDonald's Boo Buckets hold a special place in their hearts and memories. These Halloween-themed pails have become an integral part of the holiday season, evoking feelings of nostalgia and joy. Whether it's reminiscing about past Halloween adventures or creating new memories with loved ones, McDonald's Boo Buckets have the power to bring people together and make Halloween even more memorable.
Conclusion
McDonald's Boo Buckets are more than just candy pails; they are a symbol of Halloween fun and delight. With their vibrant designs, limited availability, and the element of surprise, these collectible pails have captured the hearts of many.
This Halloween season, make sure to visit your nearest McDonald's and join in the spooktacular festivities by getting your very own Boo Bucket. It's a treat that will surely bring a smile to your face and create lasting memories for years to come.
So, get ready to embrace the Halloween spirit and indulge in the magic of McDonald's Boo Buckets. Don't miss out on this exciting opportunity to add a touch of spookiness to your Halloween celebrations. Visit McDonald's today and treat yourself to a Boo Bucket that will make this Halloween season truly unforgettable.