Palada Pradhaman is a traditional Kerala dessert made with palada, or rice ada flakes. The palada are cooked in milk and sugar until they are thick and creamy, then finished with fresh butter or ghee.
This rich and decadent dessert is sure to satisfy your sweet tooth!
Ingredients for Palada Pradhaman recipe
3

 

cups

 

water

1

 

cup

 

rice ada

2.5

 

liters

 

milk

 

full fat

2-2.5

 

cups

 

sugar

1

 

tbsp

 

ghee/butter
Instructions to make Palada Pradhaman recipe
Boil 3 cups of water in a pan
Switch off the stove, add 1 cup of rice ada flakes to it
Close and rest it for 15-20 minutes.
After 15 min, strain and wash it with cold water twice or thrice to stop further cooking.
In a thick bottomed vessel, pour 2.5L milk and let it boil in medium heat while stirring continuously.
When the milk starts to boil, add 2 – 2.5 cups of sugar
Keep the flame low – medium
At least 250 – 500ml milk has to reduce
When the milk has reduced at least 1/4 litre and the color starts changing, strain and add the ada.
Mix and keep cooking on low heat until it reaches the desired consistency.
Add a tbsp of butter or ghee and mix well.
Serve hot or cold as desired!
Notes:
– You can use any type of palada/rice ada for this recipe.
– If you want a richer payasam, you can add more ghee.
– You can also add other flavors like vanilla extract or rose water.
Interesting facts about palada pradhaman
Vishu is a traditional festival celebrated in the Indian state of Kerala, and Palada Pradhaman is a popular dessert that is commonly prepared and enjoyed during this festive occasion. Here are some facts about Vishu special Palada Pradhaman:
Palada Pradhaman is a traditional and authentic dessert of Kerala, typically made with rice ada (thin rice flakes), milk, sugar, and ghee (clarified butter).
This sweet dessert is usually prepared in a wide-mouthed vessel called "Urali" to get the right consistency and flavor. It is slow-cooked on low flame for a long time to get the perfect texture and taste.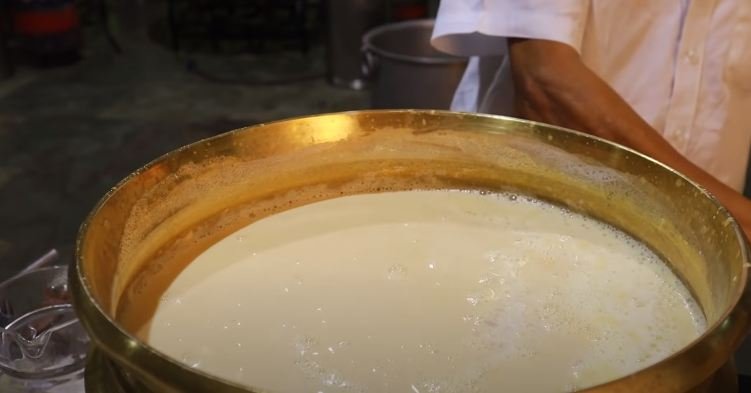 The main ingredient of Palada Pradhaman, rice ada, is made from soaking raw rice in water, grinding it into a batter, and spreading it into thin sheets which are then cut into small flakes and roasted in ghee until golden brown.
The roasted rice ada flakes are then cooked in milk, which is simmered until it thickens, and the rice ada becomes soft and tender. The dish is sweetened with sugar or jaggery, and flavored with cardamom, and sometimes garnished with cashews and raisins fried in ghee.
More facts
Palada Pradhaman has a rich and creamy texture with a delicate flavor of rice and cardamom, and the sweetness from the sugar or jaggery. It is often served hot or chilled as a dessert during Vishu celebrations and other special occasions in Kerala.
This dessert holds a special significance in Vishu celebrations as it is believed to bring prosperity and good fortune to the household when prepared and offered to the deity during the Vishukani, which is the first thing seen on Vishu morning as part of the traditional rituals.
Palada Pradhaman is a labor-intensive dish that requires patience and skill to get the right consistency and flavor. It is often prepared with love and care by family members, and the process of making Palada Pradhaman is considered a cherished tradition in many Kerala households.
Palada Pradhaman is a vegetarian dessert that is free from any animal products, making it suitable for those following a vegetarian or vegan diet.
It is not only popular in Kerala but also enjoyed in other parts of South India, with slight variations in ingredients and preparation methods, showcasing the rich culinary diversity of the region.
Which is the best payasam for Onam and Vishu?
There are many payasam that are traditionally made for Onam, the harvest festival in Kerala. Some of the most popular payasam include parippu payasam (made with dal/lentils), payar payasam (made with green beans), and pal payasam (made with milk and rice). There is no definitive answer to which payasam is best for Onam – it depends on individual preferences. However, all of these payasams are sure to be delicious and enjoyed by all!
In conclusion, Palada Pradhaman is a special and delicious dessert that holds a significant place in Thiruvonam and Vishu celebrations in Kerala. It is a labor of love that requires time and effort to prepare, and it is cherished for its rich and creamy texture, delicate flavors, and cultural significance.