Food has always had the power to bring communities together. From ancient rituals to modern dining experiences, our shared love for food transcends boundaries. In today's age of social media, Instagram has become the perfect platform for people to share their culinary adventures with the world.
These food bloggers have captured the hearts and appetites of millions of followers now and in the coming years they are surely your favorites. In this article, we will take a closer look at the top 10 Instagram food bloggers who have mastered the art of food storytelling.
1. Eva Kosmas Flores: The Artistic Gastronome
Coming from a culinary background, she combines her love for food and cooking with her passion for photography and styling. Eva's Instagram feed @evakosmasflores is a visual delight, showcasing her stunning dishes and beautiful garden. With her Greek heritage as an influence, she creates recipes that are not only delicious but also visually captivating.
No. of Followers – 315k
No. of posts – 4282
Interest – Educator • Gardener • Author
Connect – evakosmasflores.com
2. Jennifer Pallian: The Science-Based Chef
For those who consider cooking a precise science, Jennifer Pallian's Instagram account, @foodess, is a goldmine of knowledge. With a background in cooking, baking, and food chemistry, Jennifer brings a scientific approach to her recipes. Whether you're looking for cooking tips or easy baking recipes, @foodess has it all.
No. of Followers – 195k
No. of posts – 2067
Interest – Makeable coxy recipes
Connect – foodess.com
3. Nicole Triebe: The Pastry Wizard
With years of experience as a classically trained pastry chef, Nicole Triebe, better known as @windycitydinnerfairy, is a force to be reckoned with in the food blogging world.  She is Based in Chicago and her Instagram feed is a treasure trove of sweet delights that will leave you craving more.
No. of Followers – 31.4k
No. of posts – 4579
Interest – Easy entertaining recipes • Prop stylist • Photographer
Connect – nicoletriebefoodstyling.com
4. Nataly Perez: The Wellness Guru
For those seeking a healthy and balanced approach to eating, Nataly Perez's Instagram account, @fitnhealthy_, is a must-follow. As a wellness and fitness enthusiast, Nataly shares her journey to living a healthy lifestyle without depriving oneself of delicious food.
No. of Followers – 31.1k
No. of posts – 2352
Interest – Fitness enthusiast • Blogger
Connect – About Nataly
5. The Conscious Chris Foodie
If you're in need of some cheat day inspiration, look no further than @consciouschris. This food blogger's Instagram feed is filled with mouthwatering pictures of sandwiches, burgers, and pizzas. But what sets Chris apart is his commitment to conscious eating.
No. of Followers – 286k
No. of posts – 5533
Interest – Food Blogger
Connect – consciouschris.net
6. Irvin Lin: The Baking Enthusiast
Baking has been Irvin Lin's passion since he was a child, and he has turned it into a successful career. As a graphic designer, food writer, recipe developer, and author, Irvin's Instagram account, @eatthelove, is a treasure trove of baking inspiration. From Blueberry Pie to Sourdough Chocolate Chunk Cookies, Irvin's recipes will leave you in awe.
No. of Followers – 11.1k
No. of posts – 2460
Interest – Cookbook publisher • Writer
Connect – www.eatthelove.com
7. Pina Bresciani: The Italian Cuisine Aficionado
Italian cuisine has captured the hearts and taste buds of people around the world, and Pina Bresciani is here to showcase its true essence. Her Instagram account, @pinabresciani, offers a modern twist on traditional Italian dishes. She also takes her audience on a culinary journey through stunning desserts, pastries, salads, and risotto.
No. of Followers – 37k
No. of posts – 1031
Interest – Loves a good espresso • Authentic Italian food maker
Connect – pinabresciani.com
8. Alice: The Toronto Food expert
@meetandeats is the brainchild of Alice, a food-loving blogger who documents her love for Toronto's dining scene. Her experiences at restaurants are complemented by her own cooking and recipes, all beautifully photographed and presented on her Instagram feed. One of the best Canadian food influencers that you can't miss in 2024.
No. of Followers – 27.9k
No. of posts – 2786
Interest – Food reviewer
Connect – meetandeats.com
9. Kelly Jones: The Nutrition Expert
For those looking to optimize their nutrition for fitness and workouts, Kelly Jones's Instagram account, @kellyjonesrd, is a valuable resource. As a registered dietitian, Kelly shares not only fantastic healthy recipes but also informative infographics and facts about proper nutrition and a balanced diet. With 13k+  followers, she guides her audience towards a healthier lifestyle.
No. of Followers – 13.5k
No. of posts – 1070
Interest – Plants • Protein • Sports RD • Board certified sports dietitian
Connect – linktree kellyjonesrd
10. Des and Kadee: The Dynamic Duo
Des and Kadee, the duo behind Oh So Delicioso (OSD), have taken the food blogging world by storm. Featured in Oprah Magazine and Food Network, their Instagram feed is a feast for the eyes. With almost 88k+ followers, OSD offers irresistible seasonal recipes that will leave you craving more. From stunning food photography to easy-to-follow recipes, Des and Kadee have mastered the art of food blogging.
No. of Followers – 88.2k
No. of posts – 3453
Interest – Create real-life recipes for busy moms
Connect – ohsodelicioso.com
From our POV, These top 10 Instagram food bloggers have not only mastered the art of food photography but have also captivated audiences with their culinary expertise and storytelling skills.
How to Find Food Influencers on Instagram?
When it comes to food, everyone has an opinion. And when it comes to food on Instagram, those opinions are amplified. If you're looking to work with food influencers on Instagram, it's important to know how to find them.
There are a few different ways to find food influencers on Instagram. The first is by using hashtags. Hashtags are a great way to find content related to a certain topic. When searching for food influencers, you can use hashtags like #foodporn, #foodie, and #eatlocal.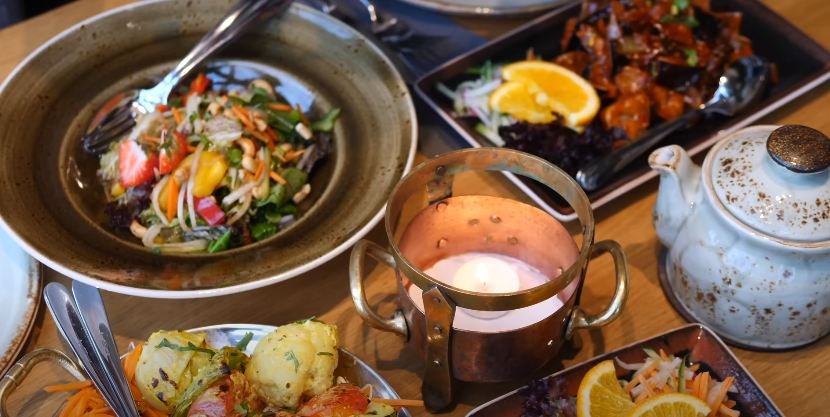 Another way to find food influencers on Instagram is by looking at who your competitors are working with. Chances are if your competitor is working with a food influencer, they're doing something right.
Finally, you can use Instagram's search feature to find food influencers. Simply type in the keywords "food influencers" and you'll get a list of all the best influencers on Instagram.
Once you've found an influencer that you want to work with, it's important to make sure that they're a good fit for your brand. Here are a few things to keep in mind:
Does the food influencer have a similar aesthetic to your brand?
What are their audience demographics?
What type of content do they post?
Is their content high quality?
Do they have a good reputation?
If you can answer yes to all of these questions, then you're ready to start working with these influencers. Just be sure to keep in mind that not all food influencers are created equal. Do your research and make sure that you're working with the right person for your brand.
Conclusion
Whether you're looking for healthy recipes, baking inspiration, or a culinary journey through different cuisines, these bloggers have got you covered. So why not hit that follow button and embark on a gastronomic adventure with these talented food influencers?
Remember, good food is meant to be shared, so don't forget to tag your friends and spread the love for these amazing food bloggers. Happy cooking and happy scrolling!