Zucchini bread first became popular in the United States in the 1930s. At that time, zucchini was not widely known or used outside of Italy. However, zucchini bread recipes began to appear in cookbooks and magazines after World War II, when zucchini became more widely available in the United States.
Take 3 eggs
Add pureed pumpkin (the secret ingredient) because it gives nice richness
Add vegetable oil
Pour 3/4 cup of sugar
Add quarter cup of water and one teaspoon of vanilla
Stir and keep aside
Take a small bowl and add dry ingredients ⇓
2 1/2 cup of all purpose flour
2 tsp of baking soda
half tsp of salt
To make it flavourful, add
1 tsp of cinnamon
half tsp of ginger
half tsp of ground nutmeg
one quarter tsp of cloves
[whisk together]
Add dry ingredients to the above mixture
Grated Zucchini
Add grated Zucchini to the previous mixture
Include dark and golden raisins
Add chopped walnuts
Put the combined mixture into oven in 350 Fahrenheit
Your healthy zucchini bread is ready!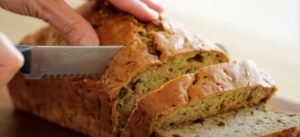 Specialties of Zucchini Bread
Zucchini bread is a type of quick bread made with zucchini as a primary ingredient. It is usually leavened with baking powder or baking soda, and may include eggs, butter, sugar, cinnamon, nutmeg, and vanilla extract. Zucchini bread can be baked as muffins, loaves, or buns.
There are many variations of zucchini bread, but the most common include adding nuts, chocolate chips, or raisins. Some recipes also call for grating the zucchini, while others call for chopping it into chunks.
While zucchini bread is often thought of as a summertime treat, it can be enjoyed year-round. Zucchini bread freezes well, so you can make a batch and enjoy it long after the zucchini season has ended.
Zucchini bread is best served fresh and warm out of the oven, but it can also be stored in an airtight container at room temperature for up to 3 days. If you want to freeze zucchini bread, wrap it tightly in foil or plastic wrap and store it in the freezer for up to 3 months. Thaw overnight in the fridge before serving.
Whether you make zucchini bread sweet or savory, it's sure to be a hit with family and friends!
You may also love to hear crazy KFC items