As street food becomes increasingly popular across the world, many nations are vying for the title of "best street food destinations."
Some street foods are national dishes that have evolved over hundreds of years to give maximum taste with minimum effort. Other street foods are modern fusions between traditional street food and culinary trends inspired by international travel.
Street food is typically found in urban areas, as consumers seek convenience and value on quick lunch breaks or after work, though street food vendors are increasingly popping up in non-urban areas. A new wave of entrepreneurs are opening up shop outside metropolitan areas so they can offer affordable street fare to customers at any time of day or night.
Although no country holds a monopoly on great street, some places do stand out as street food hubs.
In no particular order, here is a list of street food cities that street food enthusiasts should explore:
Mexico City
Ranked as one of top street food destinations around the world by CNN and "TripAdvisors 2013 Travelers Choice Awards," Mexican street fare is as diverse as its culture. Tacos are usually made from corn tortillas wrapped around meat or vegetables, with some cheese and/or salsa added for extra flavor. In Mexico City, look for tacos al pastor – marinated pork cooked on a vertical rotisserie with sliced onions and pineapple – as well as tacos de cabeza – beef cheek tacos.
For a street snack, try esquites – cream corn seasoned with chili powder and cheese that's served in a cup or bowl. Some street vendors also sell quesadillas, flautas (similar to taquitos), empanadas and tortas (Mexican sandwiches).
While street food is popular throughout Mexico, street food culture is particularly strong in Mexico City. More than 1,000 street stalls can be found at the city's main market of La Merced as well as the Tepito neighborhood, both considered by many to be among the best street food destinations on Earth .
Hong Kong
Hong Kong street food did not start with carts or stalls. Instead, street food in Hong Kong has its roots in the street markets of traditional Chinese villages . Street markets are still popular today for both convenience and value, but street food can also be found at modern indoor establishments as well as mobile street carts.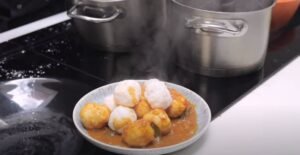 The best places to try delicious local specialties including curry fish balls, crispy waffle and Portuguese egg tarts.
Rome, Italy
The Romans may be known for fine dining and gourmet cuisine, but when it comes to quick street eats, Rome stands out as one of the best places in the world. Two hundred different pizza stands sell slices throughout Rome, including at Testaccio Market. Pizza al taglio (by the slice) originated here in the 1930s and continues today as #3 street food destinations in the world.
Near the Colosseum, look for street vendors selling artichokes and other vegetables as well as street carts serving Rome's two most popular street foods: supplí (fried rice balls with either cheese or meat inside) and baccalá (salted cod fish cooked in milk). Roman street food has even made its way to the Vatican – look for license plates hanging outside of restaurants that indicate pastors are resident inside.
Bangkok, Thailand
A city famous for street eats, Bangkok has it all but is especially known for gŏo·ay ĕe·o ( wide rice noodles served with soy sauce) and kôw nĕe·o (sticky rice steamed in young bamboo). At street stalls, try fried insects , raw duck blood soup and gài tôrt – deep-fried chicken that's marinated in five spices with a honey glaze.
Vendors at Bangkok's street markets also serve plenty of fresh fruit like papaya, mango and rambutan as well as street snacks like kôw kàh moo – pork sausages stir-fried or cheese.
Mumbai, India
Mumbai street food is one of the best street food destinations in Asia. It has a very unique taste and flavour and it becomes extremely difficult to find such delectable street foods elsewhere in India or even anywhere else in the world! If you ever get a chance to visit this city, don't forget to try out its street cuisine. Here are some mouth watering dishes that you must try when you're there:
1) Ela Ada ( Dessert ) – The name literally means "hand made". This street food is a delicate, crispy deep-fried shell made of rice flour filled with sweetened coconut. The best part is that you can choose the sweetness level as per your taste.
2) Bhelpuri – You might have had this street food in Mumbai earlier but it will never fail to excite your senses even now! This traditional Maharashtrian street food dish comprises of thin crisp fried rounds of dough mixed with fine sev, aromatic chopped onions and tomatoes along with chutneys, spices and freshly scraped coconut .
3) Pav Bhaji – This street food is extremely popular all over India and rightly so! It's a "fast food" street dish which comprises of bread buns
Vietnam
The street food culture of Vietnam is as impressive and tasty as the country's rich and complex cuisine. Street stalls and vendors can be found all across Vietnam; in fact, street food accounts for about 35 percent of the nation's total food business . Popular street snacks include chao (rice porridge with meat or seafood), banh mi (Vietnamese sandwiches) and baguette-like banh bao with various fillings such as pork, shrimp or sweet mung beans.
Though beef noodle soup may not seem like street fare at first glance, it originated on the streets more than 100 years ago before becoming a staple on Vietnamese restaurant menus today. Other street foods to look out for include nem ran (fried spring rolls), banh xeo (sizzling savory pancakes) and various fruits.
Why Street Food Destinations?
Street foods are a big part of many cultures throughout the world. In developing places, they offer a cheaper and often more nutritious alternative for families who might not otherwise be able to afford higher quality food. Also, in these places street foods can provide an escape from boredom and add variety and excitement to one's life. Street foods also tend to be easy to prepare and carry.
You may also love to hear 5 untold benefits of eating seasonal foods