Finding quick and delicious dinner ideas can be a lifesaver when you're in a rush to get dinner on the table. Having a library of quick dinner ideas can ease your evening routine whether you're a busy professional, a student with little free time, or just wish to streamline your schedule.
Simple and straightforward recipes requiring few materials and little effort are frequently used in easy meal ideas. These recipes frequently emphasize the use of easily accessible components that can be combined to make delicious dinners. Due to its effectiveness, you can spend less time in the kitchen and more time with your family or engaging in other activities.
Easy dinner ideas to Keep the family happy
Dinner ideas include a variety of options to accommodate different dietary preferences and constraints, ranging from one-pot marvels and sheet pan dinners to quick stir-fries and salads. Dishes produced with beef, poultry, fish, or vegetarian and vegan substitutes are all acceptable. The secret is to create a balance between taste and simplicity so that, the meals are not only quick to make but also tasty and filling.
You can broaden your culinary horizons and uncover delicious recipes that can be made quickly by exploring and experimenting with various easy dinner ideas. These suggestions from me might assist you in producing filling meals with little work, whether you're cooking for one person or a large party, making dinnertime a relaxed and pleasurable experience.
I sincerely hope you enjoy browsing these famous and easy dinner ideas of all time! I hope you give one a try the next time you're in the mood for something quick, delicious, and healthy. Let's hope it becomes a part of your regular rotation.
Let's start with something interesting!
Coronation Quiche, which takes its cue from the famous Coronation Chicken recipe, is a delectable and tasty variant of the traditional quiche meal. The British coronation dish, which was developed in 1953 for the coronation of Queen Elizabeth II, is infused into the quiche through this original twist.
Coronation Quiche is a flexible dish for brunch, lunch, or as part of a picnic spread because it may be served warm or at room temperature. It impresses with its distinctive blend of tastes and textures and goes fantastically with a crisp green salad or some roasted veggies.
This quiche offers a beautiful combination of British and French culinary influences and is a delicious way to incorporate the flavors of Coronation Chicken into a cherished and adaptable dish.
A customary food offered during the Jewish festival of Passover is charoset. It is a crucial component of the Passover Seder, a ceremonial meal that honors the Israelites' freedom from slavery in ancient Egypt. Charoset has a great symbolic meaning and is a representation of the mortar the Israelite slaves used to construct Egyptian structures.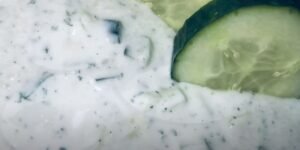 Yogurt salad, commonly referred to as raita or tzatziki, is a tasty and adaptable meal that is well-liked in many different cuisines all over the world. It goes well with a variety of dishes and is frequently used as a side dish for dinner, condiment, or dip.
Yogurt serves as the main component of yogurt salad and provides a base that is both creamy and sour. Usually, it is mixed with a variety of vegetables, herbs, and spices to achieve a flavorful harmony.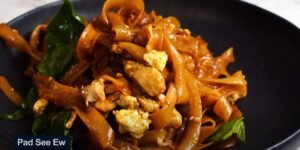 Wide rice noodles, soy sauce, pork or tofu, Chinese broccoli (also known as gai lan or kai-lan), garlic, and eggs are often used to prepare the well-known Thai meal Pad See Ew. It is a typical stir-fried noodle dish at Thai restaurants and food carts.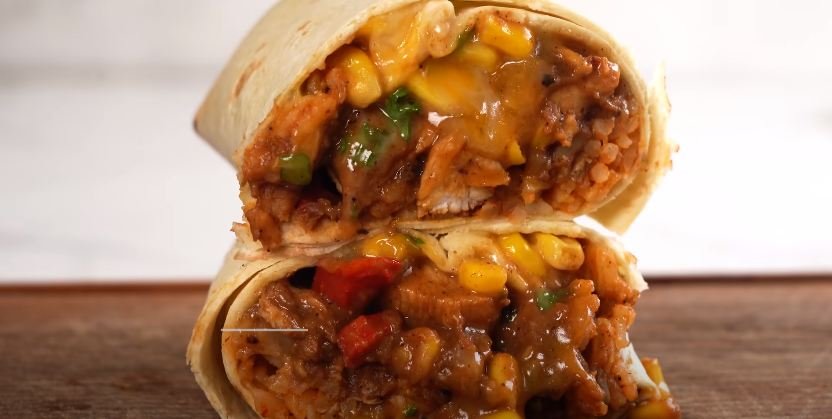 Many people adore the tasty and filling chicken burrito, a dish with Mexican influences. It normally consists of a flour tortilla stuffed with rice, beans, cheese, and various toppings along with grilled chicken that has been spiced up. A full and satisfying dinner option, the Chicken Burrito is bursting with flavors and textures and provides the ideal ratio of protein, carbohydrates, and vegetables.
A popular baked good in many kitchens all around the world, traditional banana bread is a time-honored and comforting delight. It never fails to evoke feelings of coziness and nostalgia with its moist, velvety texture and delicious banana aroma. Making banana bread is an easy but satisfying experience, regardless of your level of baking skill.
The traditional Jewish food known as latkes, or potato pancakes, is especially well-liked during the Hanukkah holiday. Grated potatoes, onions, eggs, and flour are combined to make these delicious, crispy, golden-brown treats, which are then perfectly fried. Latkes are a well-loved comfort meal that cheers many people up with their delectably crunchy surface and delicate interior.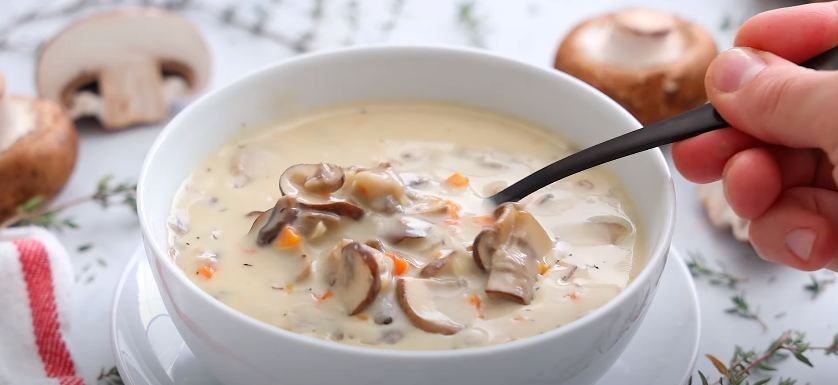 The hearty and savory dish of mushroom soup has long been adored for its earthy and deep flavor. The natural flavors of various mushrooms are highlighted in this soup, which frequently combines them with flavorful herbs and spices to provide a hearty and filling bowl of nourishment. Mushroom soup provides a flexible and delectable option for mushroom fans, whether it is consumed as a warm lunch on a chilly day or as a sophisticated appetizer at a dinner party.
A popular Austrian dish known for its straightforward yet delicious flavors is called Wiener Schnitzel. It is made up of a crispy-on-the-outside, tender-on-the-inside veal cutlet that has been breaded and fried. When served, Wiener Schnitzel frequently comes with a squeeze of lemon juice and traditional sides like potato salad or lingonberry sauce.
Traditional Austrian side dishes like potato salad or parsley potatoes, lingonberry jam, or cranberry sauce are frequently served with Wiener Schnitzel. It is a dish that may be served as the star of a special event or as a cozy family supper.
Wiener Schnitzel has a well-deserved reputation as a classic and filling dish because of its crunchy breading and soft meat. It is a delicious blend of textures and flavors.
Hatch chiles are a type of green chili pepper that is mostly farmed in the Hatch Valley region of New Mexico. Stuffed Hatch chiles are a delectable Southwestern speciality that highlights the distinctive flavor of Hatch chiles. These chiles are well-known for their peculiar smoky-sweet flavor and mild to medium heat, which makes them ideal for stuffing and grilling.
Tandoori chicken is a well-liked Indian dish distinguished by its vivacious flavors and stunning reddish-orange hue. The traditional clay oven known as a tandoor, in which chicken is often cooked, inspired the name of the dish. Tandoori chicken is prepared by marinating it in a mixture of yogurt and a number of fragrant spices, which gives the meat a mouthwatering array of flavors.
A nutritious and savory recipe that perfectly portrays the spirit of the Mediterranean region is the Mediterranean quinoa bowl. This colorful bowl is loaded with healthy foods including quinoa, fresh veggies, and flavors from the Mediterranean. A substantial and nourishing dinner, it delivers a beautiful combination of textures and a harmonizing medley of ingredients.
A traditional dinner meal side dish that gives the well-liked comfort food a tasty twist is garlic mashed potatoes. This rich, creamy meal combines garlic's flavorful, aromatic scent with mashed potatoes' silky consistency. It adds a delectable flavor explosion to the table and is the ideal side dish for many main dishes.
Tteokbokki is a well-known Korean street food dish that is known all over the world for its spicy and addicting flavors. It is made out of chewy rice cakes (tteok) that have been cooked in a hot, slightly sweet sauce. Fish cakes, boiled eggs, and scallions are frequently added to tteokbokki to make it even more tasty and filling.
Tteokbokki is a renowned Korean food staple that originated in Korea and is liked by people of all ages. Tteokbokki's distinctive robust and delectable flavor is attributed to the spicy sauce, which is created using gochujang (Korean chili paste), garlic, soy sauce, and other seasonings. Every bite is a treat thanks to the chewy texture of the rice cakes, which provides a nice contrast to the spicy sauce.
In the United States, New Year's Day is frequently associated with the traditional Southern dish Hoppin' John. Black-eyed peas, rice, and numerous seasonings make up this hearty and tasty dish. In Southern cooking, the dish known as Hoppin' John, which is thought to have African and Caribbean origins, has come to represent luck and prosperity.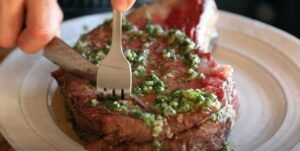 Standing rib roasts, commonly referred to as prime rib, are traditional and opulent beef cuts that are frequently saved for special events or holiday meals. It is a premium cut of beef that is obtained from the animal's rib region and often consists of numerous ribs that are still joined together. The term "standing rib roast" refers to roasts that are frequently prepared standing up, using the ribs as a rack.
The robust flavors of Korean food are combined with the portability of tacos to create the delectable fusion dish known as Korean tacos. The popularity of this culinary innovation increased in the United States, especially in hip restaurants and food trucks where the fusion of Mexican and Korean flavors results in a delectable and distinctive taste.
An age-old favorite that has been devoured by people all across the world for countless years is the gammon and cheese sandwich. The savory and salty flavors of gammon are combined with the creamy and melty richness of cheese in this straightforward yet tasty sandwich. It's a go-to choice for an efficient and delectable dinner. The gammon and cheese sandwich can be customized to suit individual tastes because of its adaptability.
You may experiment with new flavors and combinations while also adding a bit of uniqueness to your pizza-making endeavors by crafting themed pizzas, which put a creative and entertaining spin on the traditional Italian dish. These pizzas provide distinctive themes and ingredient combinations that reflect various cultures, seasons, or imaginative notions, going beyond the conventional cheese and pepperoni toppings.
Do you yearn for a quick and easy-to-prepare dinner recipe that is basic yet satisfying? Look no further than this delicious dish for boiled egg fries. The ideal combination of spices and a crunchy golden coating turn boiled eggs into a delicious treat. This boiled egg fry will wow you whether you're searching for a quick supper alternative, a protein-rich snack, or a delicious addition to your brunch menu. You may make a tasty dessert with only a few ingredients and a little work that will have you wanting more.
The flavors of a traditional Greek salad are complemented by the tasty and energizing Greek salad dressing. It is a mainstay of Mediterranean cooking and is renowned for its zesty flavor. Extra virgin olive oil, lemon juice, garlic, and herbs are frequently included in the dressing along with other basic yet tasty components.
Salmon that has been pan-seared is a tasty and adaptable recipe that highlights the fresh flavors and sensitive texture of this well-liked fish. The salmon is swiftly cooked in a hot skillet, giving it a delicious outside while preserving the interior's moisture and tenderness. With the help of the quick and easy cooking technique of pan-searing, you can prepare salmon dishes of restaurant quality in the convenience of your own home.
Salmon is highly regarded for its luscious, buttery flavor and its wealth of omega-3 fatty acids, which are good for the heart. Salmon that has been pan-seared develops a gorgeous caramelized crust, which improves the overall flavor of the fish.
A traditional and filling dish, corned beef and cabbage are closely related to Irish and Irish-American cooking. Although it can be consumed throughout the year, St. Patrick's Day is when it is frequently savored. This classic dish includes cooked cabbage, potatoes, and carrots together with delicious, slow-cooked corned beef brisket.
The term "corned beef" refers to the salt crystals (sometimes known as "corns") that were used to cure cattle. In order to impart flavor and make the flesh become softer, the beef is often brined for several days in a solution of water, salt, sugar, and spices like coriander and peppercorns.
Lamb is a delicious and savory meat that has been used for millennia in many different cuisines all over the world. It differs from other varieties of meat in that it delivers a rich and unique flavor. Lamb is a flexible protein that can be served in a variety of tasty ways, whether you're grilling, roasting, or braising it.
Lamb is especially well-liked in Middle Eastern and Mediterranean cooking, where it's frequently used in classic dishes like lamb tagine, lamb chops, and lamb kebabs. The meat's inherent tenderness and juiciness make it a good candidate for a variety of cooking methods, resulting in a variety of flavors and textures.
With the aromatic flavors of fennel, a fennel-crusted rib roast turns the traditional rib roast into a delicious and beautiful dish. In this dish, the flavorful and somewhat sweet fennel seeds are combined with the rich, juicy flavors of a prime rib roast to create a delectable and well-balanced dish.
A fennel-crusted rib roast is made by liberally seasoning the meat with salt, pepper, crushed fennel seeds, and other balancing herbs and spices. The roast is enhanced by the fennel seeds' characteristic liquorice-like flavor and delicate crunch. Each juicy slice of the rib roast is enhanced by the fennel crust, which develops into a savory, golden crust while the rib roast cooks.
A traditional pasta dish with Italian influences, chicken fettuccine alfredo is adored for its rich, creamy flavours. It includes succulent chicken breast chunks that have been cooked with al dente fettuccine noodles and covered in a decadent Alfredo sauce.
The dish's roots can be found in Italian-American cooking, where it has grown to be a well-liked comfort food choice. The highlight of the dish is the creamy Alfredo sauce, which is produced by blending butter, cream, and Parmesan cheese. The sauce is then given a silky and opulent texture by being seasoned with garlic, salt, and pepper.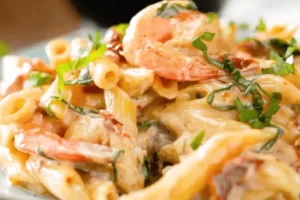 A delicious and tasty dish, mozzarella shrimp spaghetti blends pasta with tender shrimp and creamy, melted mozzarella cheese. For seafood fans who yearn for a hearty and cheesy pasta dish, it is the ideal choice.
Plump and tender shrimp are often sautéed in a pan until they become pink and are cooked through before being added to mozzarella shrimp pasta. A great base for the dish is then created by combining the prawns with cooked pasta, such as linguine or spaghetti, that is al dente.
The flavorful richness and tenderness of premium beef are highlighted in the renowned and traditional dish known as beef steak. It is a flexible protein that may be prepared for different levels of doneness, resulting in a variety of textures and flavors to suit different palates.
Prime cuts of beef, such as ribeye, sirloin, fillet mignon, or New York strip, which are renowned for their marbling and tenderness, are often used to make steak. When a steak is cooked, the marbling, or intramuscular fat, makes the meat more flavorful and juicy.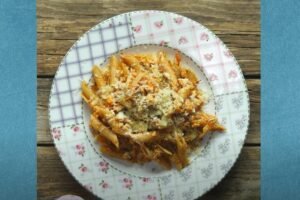 A delicious variation on the classic Italian Bolognese sauce uses tasty chicken instead of the usual ground beef and pasta. Tender chicken, fragrant veggies, tomatoes, herbs, and spices are cooked together to make a rich and flavorful sauce for this hearty and filling pasta dish.
Penne pasta, which is distinguished by its brief and cylindrical shape, is prepared individually and cooked to al dente. After being cooked, it is mixed with the Chicken Bolognese sauce so that the pasta may absorb all of the flavors.
A hearty and fulfilling recipe that combines the flavors of chicken, tomatoes, and fragrant herbs is chicken bolognese with penne. It is ideal for a warm family supper or for serving a tasty Italian-inspired dish to visitors.
Spaghetti aglio e olio is a simple yet flavorful Italian pasta dish that showcases the beauty of minimal ingredients. Translating to "spaghetti with garlic and oil," this dish is known for its simplicity and ability to deliver a burst of delicious flavors.
This dish embodies the best of Italian cooking: straightforward, tasty ingredients that come together to make a filling supper. It is a go-to choice for hectic weeknights or whenever you are in the mood for an easy and delectable pasta dinner. Spaghetti aglio e olio is frequently eaten as a stand-alone meal, but it can also be combined with grilled chicken, prawns, or vegetables to boost the dish's protein content.
A traditional and elegant dish from French cuisine, chicken française is often referred to as chicken Francese. It is made up of flavorful chicken cutlets that have been pan-fried to perfection and topped with a rich lemon butter sauce. The chicken is soft and the egg batter is light and acidic.
The lemon butter sauce is frequently ladled liberally over the chicken cutlets while serving chicken française. It goes great with a number of side dishes, including roasted vegetables, rice, or pasta. The dish's flavors, which blend the richness of the chicken, the tanginess of the lemon, and the creaminess of the butter, are not only aesthetically pleasing but also flavorful.
The delicious blend of flavors and textures in Chicken Française will thrill your palate whether it is consumed as a hearty family meal or for a special occasion.
Wind-up
How is your experience of reading? I'm pretty sure that, these will be the future of dinner recipes for at least the next decade. In addition to that, my easy dinner recipes are a great method to streamline your food preparation and save time in the kitchen. They provide a variety of possibilities, enabling you to put up delectable dinners with little work. These dishes, which use basic materials and straightforward cooking methods, might come in handy on hectic days or whenever you just want a hassle-free dinner.
You may also love to read: