Craving a quick and easy meal, a chicken burrito is a great choice. This dish is not only filling and satisfying but it can also be personalized with a variety of toppings and sauces. This recipe makes a tasty chicken burrito in just 25 minutes, making it ideal for a quick lunch or dinner.
This recipe is also simple to adapt to your dietary requirements. You can make it healthier by using brown rice or a low-carb tortilla, for example. Overall, this chicken burrito recipe is a great choice for anyone looking for a quick, tasty, and adaptable meal.
History of Chicken Burrito
The chicken burrito's origins are unknown, but it is thought to have originated in Mexico or the southwestern United States. The burrito is a traditional Mexican dish that consists of a flour tortilla filled with rice, beans, meat, cheese, and vegetables.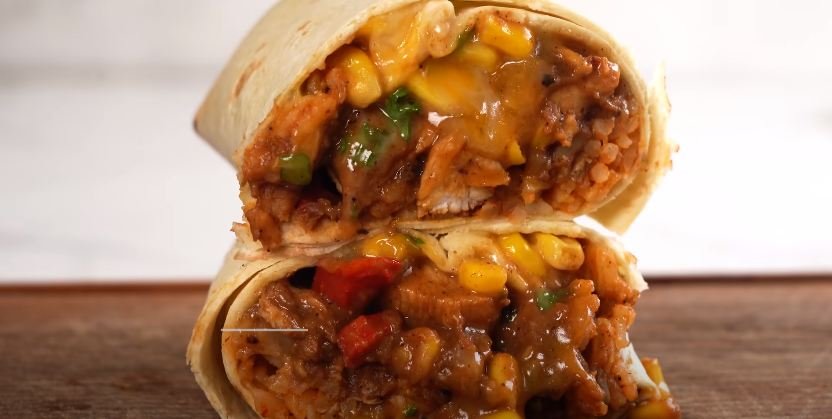 Chicken burritos are a popular twist on the traditional burrito, and they can be filled with seasoned chicken, rice, beans, cheese, salsa, and other ingredients. Sour cream and guacamole are frequently served on the side.
This Mexican cuisine became popular in the United States in the middle of the 20th century, when the first mention of a chicken burrito appeared in American cookbooks. However, the dish was most likely consumed in Mexican homes long before it became popular on restaurant menus.
Chicken burritos are now available on the menus of many Mexican and Tex-Mex restaurants across the United States, and they have become a popular dish among people of all ages and backgrounds.
How to Make Healthy Chicken Burrito?
A healthy chicken burrito is made by selecting nutrient-dense ingredients and preparing them in a way that maximizes their health benefits. Here's a healthy chicken burrito recipe:
Ingredients:
2 cups brown rice, cooked
1 can drained and rinsed black beans
1 cup shredded cooked chicken
1 red bell pepper
sliced 1 green bell pepper
sliced 1 small red onion
sliced 1 avocado
sliced 1/4 cup chopped fresh cilantro
1 lime, squeezed
seasoned with salt and pepper
Tortillas made from whole wheat
Instructions:
Combine the cooked brown rice and black beans in a large mixing bowl.
Season with salt and pepper to taste.
In a separate pan, sauté the sliced bell peppers and red onion until they are tender and lightly browned.
Cook until the shredded chicken is heated through in the pan.
Combine the cilantro, lime juice, and a pinch of salt in a small bowl.
Warm the whole wheat tortillas in the oven or on the stovetop.
Place a spoonful of the rice and bean mixture on the bottom of each burrito, followed by the chicken and vegetable mixture, and then top with sliced coriander and the cilantro-lime mixture.
Serve the tortilla folded around the filling.
This recipe for healthy chicken burritos is high in protein, fibre, and healthy fats from avocado. It also includes whole wheat tortillas and brown rice, both of which are complex carbohydrates that provide long-lasting energy and fibre.
Chicken burritos fillings
Chicken burritos can be filled with a variety of ingredients, but some of the most common are:
Cooked chicken: Shredded or diced chicken is a traditional filling for chicken burritos. To add flavour, season with spices such as chilli powder, cumin, garlic powder, and salt.
Rice: A common ingredient in burritos, rice provides a source of carbohydrates to keep you satisfied. Brown rice is a better choice than white rice because it contains more fibre and nutrients.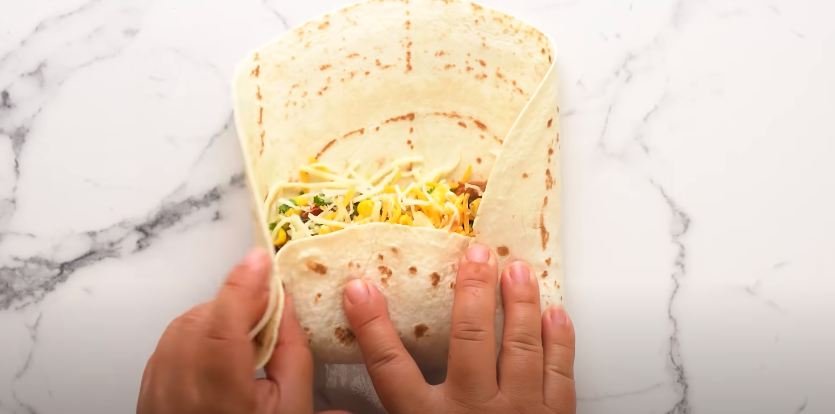 Beans: In chicken burritos, black beans, pinto beans, or refried beans are frequently used. They supply protein, fibre, as well as essential vitamins and minerals.
Vegetables: For chicken burritos, sliced bell peppers, onions, and tomatoes are popular. They enhance the flavour, texture, and nutritional value of the dish.
what do you put in chicken burrito?
How to freeze chicken burritos?
Freezing chicken burritos is an excellent way to always have a quick and easy meal on hand. To freeze chicken burritos, follow these steps:
Ingredients:
Burritos with cooked chicken
Plastic wrap or aluminium foil
large freezer bags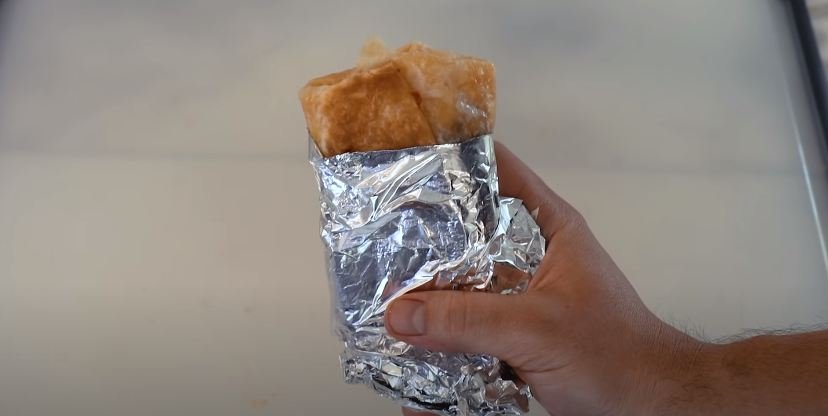 Instructions:
Allow the cooked chicken burritos to cool completely before serving.
Wrap each burrito in aluminium foil or plastic wrap tightly.
Place the wrapped burritos in a large freezer bag, pressing out any excess air before sealing.
The date and contents should be written on the bag.
To freeze, place the bag flat in the freezer.
How to reheat a burrito?
To reheat the burrito, the creators of the recipe to cook suggest these methods;
Unwrap and remove the desired number of burritos from the freezer bag.
Microwave the burrito for 2-3 minutes on high, or until heated through.
Preheat the oven to 350°F (175°C), wrap the burrito in foil, and bake for 20-25 minutes, or until heated through.
Note: Frozen chicken burritos can be frozen for up to three months.
Dunking Sauce for Burrito
Depending on your personal preferences and the type of burrito you're eating, there are numerous sauces that can be used for dunking. Here are a few suggestions:
Salsa: Salsa is a traditional burrito sauce that can be used as a dip or poured over the top of the burrito. It adds flavour and moisture to the burrito, and depending on the type of salsa used, it can be mild or spicy.
Guacamole: Another popular sauce for burritos is guacamole. It adds creaminess and flavour to the burrito and is made from mashed avocado, lime juice, garlic, and other seasonings.
Sour cream: is a mild and creamy sauce that can be dipped or drizzled over the top of the burrito. If you want a cooling effect or to balance out any spiciness in the burrito, this is a good option.
Hot Sauce: If you enjoy spicy foods, hot sauce can make an excellent dunking sauce for your burrito. Choose your favourite hot sauce, such as Tabasco, Sriracha, or Chipotle, and use it sparingly or liberally according to your taste.
Ranch dressing: Ranch dressing is a good choice for burritos with chicken or other meats. It's creamy and mild, and it gives the burrito a subtle tangy flavour.
These are just a few suggestions for burrito dunking sauces. Experiment with various flavours and combinations to find your favourite!
Nutrition Information
The nutritional value of a chicken burrito varies depending on the ingredients used and the size of the burrito. However, the following is a general breakdown of the nutritional information for a typical chicken burrito:
calorie range: 400-800
40-50 grams protein
10-30 grams of fat
60-75 grams of carbohydrates
5-12 grams fiber
1000-2100 mg sodium
It's important to note that additional toppings or sauces added to the burrito can change the nutrition information and calories. Consider using whole-grain tortillas, adding extra vegetables such as lettuce, tomatoes, and peppers, and using grilled chicken instead of fried chicken to make a healthier chicken burrito.
Bottom Line

To summarise, the chicken burrito is a popular Mexican dish and delicious meal that has a large global following. Its popularity stems from its flavorful and diverse ingredients, as well as its adaptability to different dietary preferences.
Whether you prefer a traditional chicken burrito with rice, beans, and salsa or a customized version with unique toppings and sauces, the chicken burrito is a Mexican cuisine staple. So, the next time you're looking for a filling and satisfying meal, try a chicken burrito – you won't be disappointed!
Related search: Fried chicken nutritional facts