Demand for the spicy Korean street food has increased in the United States, with online sales increasing and new restaurants offering variations of the spicy dish. Tteokbokki is known for its spicy and slightly sweet flavour, and it has grown in popularity as a trendy and affordable street food in recent years. It's also a popular dish in Korean restaurants, where it can be served as a main course or as a snack.
Tteokbokki is a popular Korean street food made of stir-fried rice cakes, vegetables, and a spicy chilli paste sauce. It's a popular Korean snack, often sold by street vendors and served in small paper cups for on-the-go consumption.
Tteokbokki takeover
The versatility of tteokbokki is part of its allure. While it is traditionally made with spicy gochujang sauce, it can be customised with a variety of flavours and ingredients to suit a variety of tastes. Adding cheese, seafood, or even ramen noodles to the mix is a popular variation.
Tteokbokki's popularity can also be attributed to the general increase in interest in Korean cuisine. Korean barbecue, kimchi, and bibimbap are just a few examples of Korean dishes that have recently gained popularity in the United States.
As more people discover the delights of tteokbokki, we can expect to see it on more restaurant menus and in more grocery stores. Its spicy, savoury flavour and chewy texture make it an ideal comfort food, and it's also gluten-free.
Tteokbokki: Celebrity loving food
There was also the time BTS singer Jimin was spotted eating it at a Seoul food market, which helped make it a trending item on social media. Ji-Young, Sesame Street's first Asian muppet, enjoys tteokbokki as well.
In New York City, the restaurant Witch Toppoki is betting on the growing popularity of rice cakes by expanding its menu. The restaurant's first location in Flushing, Queens, opened in December 2022, followed by a second in nearby Bay side in February 2023.
O'Foods packaged Tteokbokki
O'Food, a global producer of Korean pantry staples, begin selling instant pre-packaged tteokbokki in the United States through online retailers such as Walmart and Amazon. O'Food, which sells packaged tteokbokki, has increased its sales by 450% in the last year.
"Our bestselling product on online platforms has always been gochujang, but our tteokbokki product line has already become our runner-up within a year," said Justin Park, an O'Food company representative.
How to make Tteokbokki? Spicy Korean Rice Cakes
This popular Korean street food that consists of chewy rice cakes, spicy gochujang sauce, and a variety of vegetables. Here is a recipe for Tteokbokki that you can make at home:
Ingredients:
1 kilogramme of Korean rice cakes
four cups of water
4 shiitake mushrooms, dried
1/2 sliced onion
2 minced garlic cloves
2 teaspoons gochujang (Korean chilli paste)
1 teaspoon of sugar
1 teaspoon of soy sauce
1 teaspoon vegetable oil
1/2 cup scallions, chopped
1/2 cup carrots, sliced
1/2 cup chopped cabbage
Instructions:
Soak the rice cakes for 30 minutes in cold water.
Add the water, shiitake mushrooms, onion, and garlic to a pot. Over medium-high heat, bring to a boil.
Reduce the heat to low and let the mushrooms soften for 15-20 minutes.
Remove the mushrooms and thinly slice them. Place aside.
Pour in the gochujang, sugar, and soy sauce. Combine thoroughly.
Drain and add the rice cakes to the pot. To coat, stir in the sauce.
To the pot, add the sliced mushrooms, scallions, carrots, and cabbage. Mix thoroughly.
Cook for 10-15 minutes, or until the rice cakes are soft and chewy, over medium-high heat.
Drizzle with vegetable oil and stir to combine.
Serve immediately with chopped scallions on top.
Where to eat The best Tteokbokki in the world?
According to recipe to cook, The taste and quality of Tteokbokki can vary depending on the restaurant and the cook, making it difficult to single out one location as the best. As gourmands, Me and Deena have traveled around the world to try different foods. One of the best place to eat Tteokbokki in the world is Gwangjang Market (광장시장) in Seoul.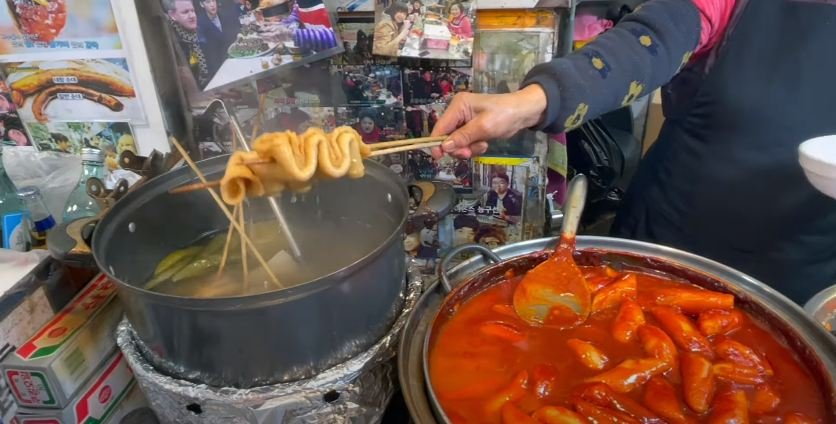 Specification of the market:
Traditional street market
Dine-in and takeaway are the service options available
More than 5000 shops
Address: 88 Changgyeonggung-ro, Jongno-gu, Seoul, South Korea
Location:
Tteokbokki, a traditional Korean street food, is popular at this historic market. We have found several vendors sell their own variations of the dish at the market, so you can try them all and find your favorite. If you're heading to Seoul, South Korea, you must visit this beautiful market once in your life time, especially for Tteokbokki.