Struffoli is a traditional Italian Christmas treat, and they're absolutely delicious! The little fried balls of dough are covered in a sweet glaze and then sprinkled with colorful candied fruit.
They're basically like the Italian version of donut holes. And trust me, they're addictive.
They are often served in a pyramid shape and are a popular holiday dessert. Making struffoli at home is not as difficult as you might think, and the results are well worth the effort. The key to making the perfect Struffoli recipe is to make sure that the balls of dough are cooked through before adding them to the honey glaze. If they are not cooked through, they will absorb too much of the honey and become too sweet.
Once you have perfected your struffoli recipe, you can experiment with different dipping sauces and decorations. A popular variation is to add chocolate chips or chunks to the honey glaze, which gives the struffoli a delicious chocolate flavor. You can also try using different types of sprinkles or candied fruit to decorate your struffoli. Whatever variations you choose, your friends and family are sure to love this traditional Italian Christmas treat!
INGREDIENTS
All-Purpose Flour – 2 Cups (290g)
Baking Powder – 1/2 teaspoon (4g)
Fine Sea Salt – 1/2 teaspoon (3g)
Granulated Sugar – 5 tablespoons (70g)
Lemon Zest – from 1 lemon
Orange Zest – from 1/2  orange
Sweet Marsala – 2 tablespoons (white wine works too)
Unsalted Butter – 2 oz. (57g) Large Eggs – 2 each
Honey – 2/3 Cup (225g)
Sliced Almonds – 1/2 Cup (optional)
INSTRUCTIONS
Take a food processor, add 2 cups of all-purpose flour, 1/2 tsp of baking powder, 1/2 tsp of fine sea salt,
2 tbsp white granulated sugar, one lemon zest, one half of orange zest,
2 ounces of unsalted butter, 2 tbsp sweet marsala wine, and 2 eggs.
Blend it together
Turn out the dough from the food processor and make sure it is completely homogeneous.
Knead the dough just a little bit, don't overdo it.
Wrap it with a plastic film and refrigerate it for about an hour.
Flatten the dough either by hand or by roller
Make the dough half an inch thick and cut it into strips
Take one piece at a time and roll it into a cylinder shape.
Cut it into small pieces
Use your palm and roll them into little balls
Take a large pan and 2 quarts of oil, and fry the struffoli at 350 degrees for a minute and a half to 2 minutes.
Move it to a parchment-lined baking sheet and let it cool.
Take a large pan and add 2/3 cup of honey and 3 tbsp granulated sugar over medium heat.
Stir the mixture until all of the sugar dissolved.
It starts to come to a boil then cut the heat and add the struffoli to the mixture.
Add some toasted sliced almonds to it and mix well.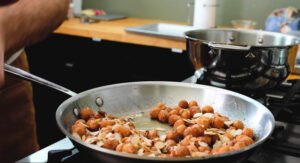 And it's time to plate them up.
Garnish it with rainbow sprinkles or shots or whatever you like.
The classic Italian dessert is ready to serve!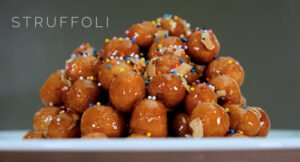 Origin of Struffoli
Struffoli recipe is a traditional Italian dessert that originates from the southern region of Campania. It is made with fried dough classic honey balls and then decorated with colorful sprinkles. The dish is typically served during the holiday season but can be enjoyed year-round.
There are many theories about the origins of struffoli, but the most popular one is that it was created by the nuns of a convent in Naples. The story goes that the nuns were looking for a way to use up the leftover dough, so they decided to fry it up and coat it in honey. The dish soon became a favorite among locals and has been passed down through generations.
Whether you enjoy struffoli as part of a holiday feast or simply as a sweet treat, there's no denying that this dish is truly unique and delicious!
You may also like Christmas recipes: 25 Delicious Christmas Desserts to Try this Year