Tutti frutti is a colorful confectionery dessert used as topper for cup cake and ice creams. It comes from an italian word meaning 'all fruits'. Let us now make an healthy eggless cup cake with tutti-frutti.
Brush oil in cup cake mould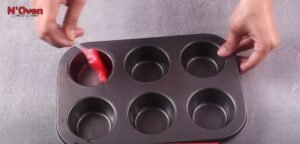 Add paper mould
¼ CUP YOGURT
¼ CUP OIL
1 CUP FLOUR / MAIDA
½ CUP POWDER SUGAR
1 TSP BAKING POWDER
½ TSP BAKING SODA
¼ CUP MILK
½ TSP VANILLA EXTRACT
[Mix with blatter]
3 TBSP TUTTI FRUTTI + 1 TSP FLOUR
[Mix with blatter]
Add the above item to  previous mixture
[Mix with blatter]
Filling the mixture to moulds
Spread tutti frutti on top
[Place an oven]
Cook in low medium heat (15 Minutes)
For oven -> Bake in 180 °C
Pre-heat oven for 15 Minutes
 All set!