Our unique dragon fruit cupcake's main ingredient is pure dragon fruit puree. It is one of the best dessert recipes to try.
Take a large bowl, add 91g butter
Add 173g  icing sugar
Mix until it is fluffy.
Add eggs gradually and mix until even.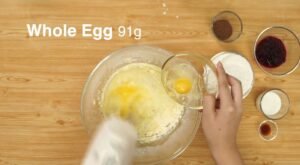 Add 50ml fresh milk
Add 2ml Vanilla Essence
Add 6g Cocoa Powder
Add 71g fresh dragon fruit puree.
Mix until it is combined!
Fill batter into a piping bag & pipe batter into cupcake holders until about 70% full.
Bake for 15 – 18 minutes at 180'C until risen, golden, and firm to the touch.
Topping Cream:
Mix cream cheese with butter
Add icing sugar and mix evenly.
Add dragon fruit puree.
Mix well and frost the cupcake as desired
Delicious and easy dessert recipes are ready to serve!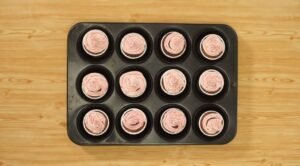 Can I make cupcakes 3 days in advance?
Yes, you may create cupcakes up to 3 days ahead of time, but there are some considerations to make to make sure they stay tasty and fresh:
Storage: Keep the cupcakes at room temperature in an airtight container. The cupcakes should not be chilled because doing so would cause them to dry up and lose their texture.
If you want to top the cupcakes with icing, wait until they are totally cold before doing so. Cupcakes with frosting should be kept in the fridge to keep it from melting.
Or, you can freeze the cupcakes to preserve them for longer. Wrap each muffin in plastic wrap individually before placing it in an airtight container or freezer bag for later use. Before serving, let the cupcakes thaw at room temperature.
Quality: Take in mind that the cupcakes' texture and flavour may change more as they sit out longer. For the greatest flavour and texture, make cupcakes no more than 1-2 days in advance. Cupcakes are best when they are fresh.