Our unique dragon fruit cupcake's main ingredient is pure dragon fruit puree. It is one of the best dessert recipes to try.
Take a large bowl, add 91g butter
Add 173g  icing sugar
Mix until it is fluffy.
Add eggs gradually and mix until even.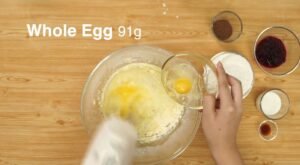 Add 50ml fresh milk
Add 2ml Vanilla Essence
Add 6g Cocoa Powder
Add 71g fresh dragon fruit puree.
Mix until it is combined!
Fill batter into a piping bag & pipe batter into cupcake holders until about 70% full.
Bake for 15 – 18 minutes at 180'C until risen, golden, and firm to the touch.
Topping Cream:
Mix cream cheese with butter
Add icing sugar and mix evenly.
Add dragon fruit puree.
Mix well and frost the cupcake as desired
Delicious and easy dessert recipes are ready to serve!